Construction Work & Project Management, Murcia, Spain
---
Making Changes at Hacienda del Alamo
Here at Hacienda del Alamo, as was expected, a number of owners having now had the opportunity to enjoy and use their recent investment (plus also that fact that many of the properties were not built to the full constructible area that they are allowed to occupy) have consider and carried out major construction projects and extensions that fit the property to their needs.
Using Local Knowledge & Skills
We at Home Kare, have had the possibility and privilege to liaise with current owners, not just those who employ our full management service, to realise and improve their ideas and bring them to fruition. By coordinating and communicating the owner's requests through each stage of the project to our fully qualified construction company, another local Spanish company who use qualified local tradesmen, ensuring that all work conforms to legal building specification and is carried out taking into consideration any legal requirements including building permits and architectural requirements.
Construction Work Portfolio
Our portfolio of construction work completed covers many different projects but includes at Hacienda the complete extension of Individual Villas; adding covered porches and terraces as well as projects for individual swimming pool and complete garden landscaping; to mention but a few.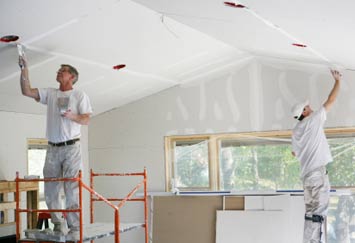 Glass Curtains, Enclosing with Style
Of recent, and now with the first project completed in May 2008, glass curtains and the closing in of covered terraces, of which there are many at Hacienda seems to be 'in vogue.' As the official Hacienda del Alamo Agent for the fully closing and secure system, made in Finland and then imported and fitted locally by Lumon, we are pleased to say that the system is all that we expected. Closing full and securely to create additional living space, but folding back to allow the continued use as a covered terrace, it has made sense to many to add this facility. As the full length glass curtains are deemed to be 'non permanent', adding them will not increase the current constructed area of your property and requires no building license, frames are available in a wide choice of colours and the heavy duty security glass concertinas away effortlessly. Due to the fact that the product is made to order and manufacture in Finland, lead time from ordering to installation is a little longer than we would have wished but once the frames and glass have arrived in Spain, installation takes less then two days depending on requirements. Please note that some minor alterations to internal walls may be necessary depending on how the enclosure and facia for your covered terraces have been finished. We have examples of finished projects at Hacienda del Alamo but can also arrange for a no obligation quotation during your absence as it is not necessary to enter your locked property to do so.
In keeping with the core philosophy of Home Kare, if you have any requirements or ideas for home extension that are not covered, we will be only to pleased to discus your individual project. Please do not hesitate to contact us.